DANNY CORTES
MOBILE DEVELOPER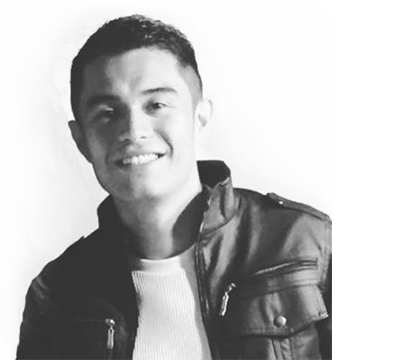 HIGHLY EXPERIENCED AWARD WINNING MOBILE DEVELOPER
Award winning innovative and logical thinking Mobile Developer with vast knowledge of leveraging technology, designing, coding and deploying sophisticated techniques; achievement-oriented, able to overcome issues, capture requirements and implement methodologies that maximize performance and deliver outstanding, engaging products. I am Multimedia Engineer graduated at the "Nueva Granada" University in 2012, with 9 years of experience in software development. I like to research, innovate and create products that generate positive changes in our society. I like cycling, traveling and learn new things. Also I do project management, and count with developers and designers, if you need a large project within a short time, you can count on me for its development.
NameDanny Cortes
Date of birthFebruary 14, 1988
AddressAv. Ambalá # 104 - 106 Ibague, Colombia
Emaildannycortesv@gmail.com
Phone(57) 3142160428
Skypedannycortesv
FUNCTIONAL SKILL RANGE • CORE COMPETENCIES • AREAS OF EXPERTISE
PROJECT MANAGEMENT
FLUTTER
DART
FIREBASE
FLARE
JAVASCRIPT
STARLING / FEATHERS
REACT NATIVE
CREATIVE
PHOTOSHOP
EDUCATION • QUALIFICATIONS • COURSES • TRAINING
Music, Classical Piano, 2005 to 2007 - "Juan N. Corpas" University. Bogota, Colombia
Multimedia Engineer, 2007 to 2012 - "Nueva Granada UMNG" University. Bogota, Colombia
Innovation Management, 2015 - "European Innovation Academy". Nice, France
PROFESSIONAL EMPLOYMENT EXPERIENCE AND CAREER HISTORY
Both professional and personal references are available on request.
Cibercol Ltda (2008) Backend Developer / MySQL & PHP : PHP Development • PostgresSQL • PHP • Developed comprehensive knowledge of backend standards and practices
Standaju S.A.S. (2009-2010) Mobile Flash Lite Developer / AS3 Development : AS3 and Flash Lite Development - Integrating apps with the Facebook SDK for Web and Desktop
Colombia en Linea (2011) AS3 Developer / Flash Professional: Working in an Agile and dynamic environment, taking technical ownership of features and quickly identifying any technical problems with the design or any improvements that could be implemented.
Hi Media Digital (2012) Mobile Adobe Air Developer Develop mobile apps (for iOS) on AS3 using the classical display list
Siete Interactivo (2013) AS3 Freelance Developer : Kinect Development • AS3 • Flash Builder • Developed client-side games for social networks. Integrating apps with the Facebook SDK for Web and Desktop
Imaginamos S.A.S (2014) Mobile Adobe Air Freelance Developer (AS3, Starling) : Oversaw game development on AS3 and adobe air for mobile (iOS and Android). Preparing and reviewing game assets for numerous production stages using Adobe Air. Extremely detail-oriented, analysing cases, testing and juggling projects to deadlines.
Bytelf S.A.S. (2013 to present) Mobile Developer / Project Manager : Created and implemented process maps and workflow to oversee concept through to production and delivery. Liasing closely with the engineering and design teams to resolve issues and create outstanding products. Integrating apps with the Facebook SDK for Web and Desktop.
Tetheree Inc. (2011 to present) Mobile & NUI Developer : Kinect & Leap Motion development using native extensions on Adobe Air. Game prototype development using Adobe Air (AS3), Starling, Feathers UI. Collaborating with teams to capture requirements, define work scopes plan development tasks. Playing a pivotal role in all phases of the software development and testing cycle.
PERSONAL AIMS • CHARACTER VALUE • GOALS • FUTURE POTENTIAL
Range of abilities that can bring to any new role:
Optimising technology methodologies, outlining scopes, gathering intelligence and capturing requirements
Acting as the conduit for mobile development knowledge and recommending options and software
Establishing objectives, workflow, the development life cycle and shaping solutions across technologies
Adhering to standards and guidelines, testing progress using staged interventions and mechanisms
Documenting progress and resolving technical queries with a keen eye for design and user experience
WORK EXCELLENCIES • CAPABILITIES • KEY ACHIEVEMENTS
Won "Best iOS App of 2013 in Colombia" in Dec 2013 - organised by The App Date
Won "Best Social Mobile App of 2012 in Colombia" in Dec 2012 - organised by The App Date
1 of my apps classified at "Best 10 Latin America Apps" in Jun 2012 - again organised by AppCircus
2 of my apps classified at "Best 10 Colombian Apps" in Nov 2011 - organised by AppCircus
Awarded 4th place at Reto Flash Lite in Jan 2011 - organised by Adobe User Group Colombia & HiMedia Digital
Developing fun, scalable multiplatform games, from design review, prototype to production